THIS INFORMATION APPLIED TO LEFT COAST CRIME 16, A CONVENTION HELD IN MARCH 2006. DETAILS MAY NO LONGER BE UP TO DATE AND/OR VALID.
Convention Hotel
Budget Hotel
Other places to stay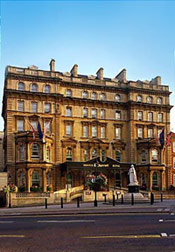 Convention Hotel
The convention will be held at the four-star Bristol Marriott Royal Hotel. The room rates are £90 per night, with a £20 discount for single room occupancy.
The room rates ONLY apply when reservations are made directly with the Bristol Marriott Royal Hotel and requesting the Left Coast Crime rate OR by booking online. Delegates will receive the group code to apply for the convention rate on receipt of payment.
The hotel reputedly was host to native Bristolian Archibald Leach when visiting his family. Mr Leach, one of Bristol's most famous sons, is better known as Cary Grant.
The suggested budget hotel (£55 per night) is the Travelodge, a five minute walk from the convention hotel.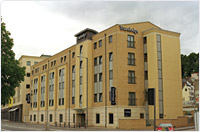 Their contact details are:
Travelodge Bristol Central
Anchor Road
Bristol BS1 5TT
United Kingdom
Phone: +44-117-9255096
Fax: +44-117-9255147

Both hotels are very close to shops and restaurants, as well as Bristol Cathedral and other tourist attractions.
All registered delegates will be offered breakfast at the convention hotel on Friday, Saturday and Sunday.
In case the convention hotel and budget hotel become booked up, or should delegates wish to stay elsewhere in Bristol, then please visit Destination Bristol at visitbristol.co.uk
LCC Bylaws | List of LCC Honourees
Web site by Interbridge | Logo designed by Bill Selby